This ultra-popular tree weighs nearly 37 pounds so it's ready to give even fat cats a comfy place to look out at the world. Construction is solid and consists of durable industrial-strength carpet, sisal rope and sturdy pine base material that stands up to claws. Available in shades of beige, the sturdy base offers stability and because every construction detail is undertaken by hand, you get a custom perch secured by heavy-duty hardware that adds years to this tree's life.
If you only buy products made in the U.S.A. and want a unit that requires no assembly, this modestly-priced cat tree could have your feline's name written all over it. Need further proof of this Molly and Friends cat tree's stability? "I bought this for two 20-pound Maine Coons who take off from it like rockets and it doesn't even wobble," said a cat mom so impressed, she wrote the company a fan letter.
——————————————————————————
Despite the impressive size of this triple cat perch, shoppers needn't worry about putting anything together because this New Cat Condos tree comes fully assembled. Yes, your cats may like the shipping box better than the tree at first, but once they get acquainted with its features, they're going to claim it as their own. If you are a stickler for room color coordination, you can choose from beige, brown, blue, green and gray plush carpet colors, though you will pay a little more money for some hues.
Constructed of sonic tubes, unoiled sisal rope and solid woods, this unique perch is manufactured by a company that's been in business since 1983. New Cat Condos prides itself on knowing the cat market so well, it regularly comes up innovatively-styled furniture at reasonable prices. Because there are roomy spaces near the tree bottom, even large arthritic cats can find a place to snooze without having to go to the top to feel safe.
——————————————————————————
If price is no object, consider this uniquely designed three-tier structure for your home. Despite the hefty price tag, this unit sells out quickly. This triple-tiered tower is hand-crafted in the U.S. and delivered to shoppers fully assembled, so no tools required. At 54-inches tall, this unit is covered with high-quality carpet and thick sisal rope. Choose between beige or green to compliment your home's color scheme.
There have been reports of quality control issues from consumers not shy about posting grievances, but Molly and Friends' customer service is responsive, and an unusually high number of rave reviews attest to the integrity of this tree by folks who wouldn't think of owning another brand. That stated, one cat mom wrote the company saying that her big boy didn't fit into that central circle and had to settle for the perch below!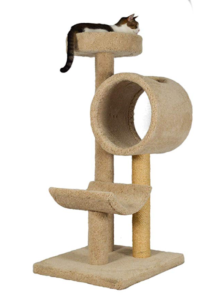 ——————————————————————————
As the only item in this review advertised specifically for large cats like Maine Coons and Ragdolls, this 3-bed tree won't require you to cut back on premium cat food because it's affordable and just two inches shorter than the pricey tower described above. A solid wood aperture attached to a large base is engineered to prevent tip-overs and the exterior is upholstered in thick, soft, household-grade carpet and unoiled sisal rope.
Cat parents worried about products made with toxic agents can relax. Instead of glue, all sections are joined together by industrial staples. "Tested and approved" by 18-pound cats, you will have to dig out a power screwdriver once it arrives because it comes in two pieces and you must connect them. That said, shoppers give high marks to this CozyCat tower.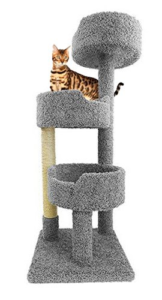 ——————————————————————————-
If your hefty feline is finicky about the color of her furnishings, this two-tier unit is guaranteed to please because it comes in blue, blue/beige, burgundy, burgundy/beige, green, green/beige and solid beige. As with other Molly and Friends cat furniture, this unit arrives assembled and it's crafted in the U.S. of high-quality commercial carpet and all-natural sisal rope.
This hefty tree is surprisingly heavy at nearly 44 pounds, so chances that it could be toppled are slim, even at the mercy of a large feline. If you're comparison shopping, this unit's price is somewhere in the middle. Sunshine, a 25-pound Maine Coon, gives this product two paws up, says his owner who was desperate for a cat tree that would fit into her small digs, so if you've got a small place and a huge cat, this tower won't disappoint.

——————————————————————————-